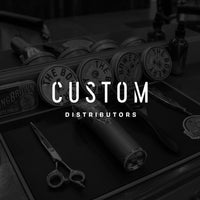 SIGN UP FOR WHOLESALE PRICING
CUSTOM DISTRIBUTORS IS AN IMPORTER & SUPPLIER TO THE BARBER & HAIR DRESSING TRADE.
Importing & representing well known brands including Barbicide, Shark Fin, Prospectors, The Bowery, King Brown & Earnest Empire; Custom Distributors stocks premium men's grooming products.

If you have a barber shop or salon and you would like to access wholesale pricing across our range of retail products - please complete our simple form here - after we confirm your stores location we will send you an individual discount code for use over the following 12 months. You can order as and when you like, you will receive FREE freight on all orders over $50 (*Excludes Barbicide) & you can even use Afterpay! *Trade pricing excludes Barbicide & Wahl.
*If you expect to spend over $2000 p.m please contact us to setup up a trade account. CONTACT HERE
PLEASE COMPLETE THE FORM BELOW TO SIGN UP FOR OUR WHOLESALE PRICING: